Thanks for lots of participants.
Abstracts of Posters (PDF file) is available for a limited time until September 2011.

Please use Internet Explorer 4.0 or later.
---
Welcome to Official TIC Homepage!
---
We will have 9th Tsukuba International Conference on Memory
on March 6-8, 2011.
Theme:
Dementia and Memory
Place:
Gakushuin University.
( Gakushuin 100th Anniversary Memorial Hall. )
http://www.gakushuin.ac.jp/univ/
Schedule:
PDF(2011.Jan.30 up)
Registration Deadline: January 15, 2011
Registration Guidance2011.Nov.22 up
Submission Deadline for Poster Abstract:
January 20, 2011February 5, 2011
Organizers
Nobuo Ohta ( Gakushuin Univ., Japan )
Lars-Göran Nilsson ( Stockholm Univ., Sweden )
Speakers
Herman Buschke ( Albert Einstein College of Medicine, USA )
Yasuyuki Gondo ( Osaka University, Japan )
Ellen Grober ( Albert Einstein College of Medicine, USA )
Murray Grossman ( Univ. of Pennsylvania, USA )
Agneta Herlitz ( Karolinska Inst., Sweden )
John Hodges ( Univ. of New South Wales, Australia )
Michael Kopelman (King's College London, UK )
Lars-Göran Nilsson ( Stockholm Univ., Sweden )
Katie Palmer (Fondazione Santa Lucia, Italy )
Karalyn Patterson ( Univ. of Cambridge, UK )
Patrick Rabbit (Univ. of Oxford, UK )
Mathew Lambon Ralph (Univ. of Manchester, UK )
David Salman ( Univ. of California, San Diego, USA )
Yaakov Stern ( Columbia Univ., USA )
Chairs
Etsuko T.Harada ( University of Tsukuba )
Manabu Ikeda ( Kumamoto University )
Kazuo Mori ( Tokyo University of Agriculture and Technology )
Satoru Saito ( Kyoto University )
---
What's new!
2011.04.10 Abstracts of Posters UP!
2010.11.22 Registration guidance UP!
2010.11.15 Tentative Schedules UP!
2010.11.09 Poster UP!
2010.10.02 Organizers and Speakers UP!

---
For information on past conferences, see the following links:

---
If you have any question, please contact us,
Tic Office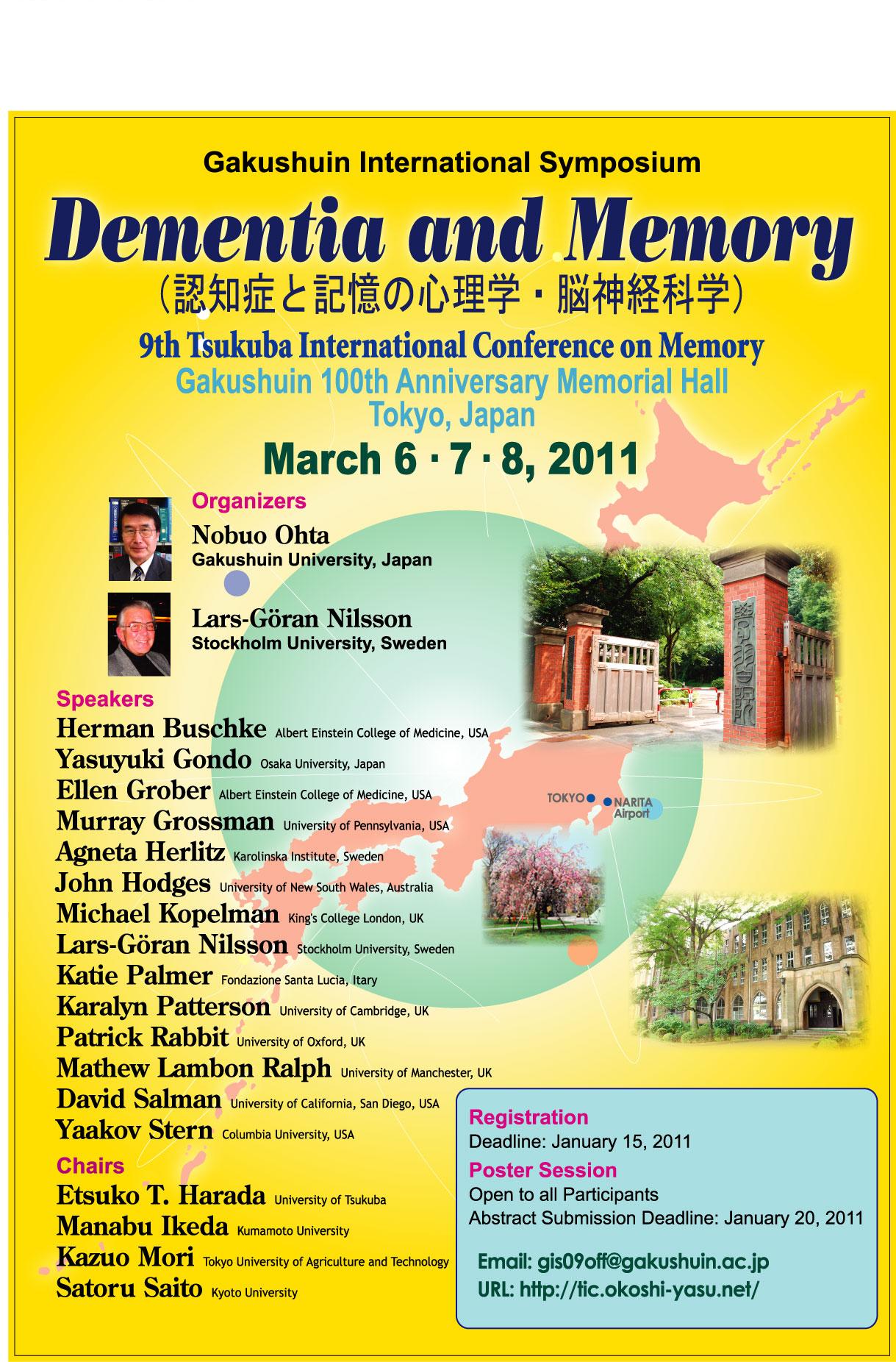 ---
Please feel free to download our poster and print it out.
We can send you some copies of the poster to display.
Welcome to tell us how many copies you need and your address.