Please use Internet Explorer 4.0 or later.
---
Welcome to Official TIC 10 Homepage!
Functional Neuroimaging of Episodic Memory
We are going to have TIC 10 at March 4-6, 2012.

Place: Gakushuin University.

Registration Deadline: January 15, 2012.
Registration Guidance2011.Dec.06 up

Poster Session:
Open to all Participants
Abstract Submission Deadline: January 25, 2012


Organizers
Nobuo Ohta Gakushuin University, Japan
Roberto Cabeza Duke University, USA
Speakers ( Tentative Schedule2012.Jan.12 up )

Donna Rose Addis The University of Auckland, New Zealand
Roberto Cabeza Duke University, USA
Emrah Duzel University College London, UK
Guillen Fernandez Radboud University Nijmegen, The Netherlands
Simona Ghetti University of California, Davis, USA
Elizabeth Kensinger Boston College, USA
Kenneth Norman Princeton University, USA
Lars Nyberg Ume? University, Sweden
Ken Paller Northwestern University, USA
Charan Ranganath University of California, Davis, USA
Michael Rugg University of Texas at Dallas, USA
Craig Stark University of California, Irvine, USA
Chairpersons
Etsuko T. Harada University of Tsukuba
Hisato Imai Tokyo Woman's Christian University
Takashi Tsukiura Kyoto University
Satoshi Umeda Keio University
Fee for Conference: 4000yen. Fee for Party: 5000yen.


---
For information on past conferences, see the following links:

---
If you have any question, please contact us,
Tic Office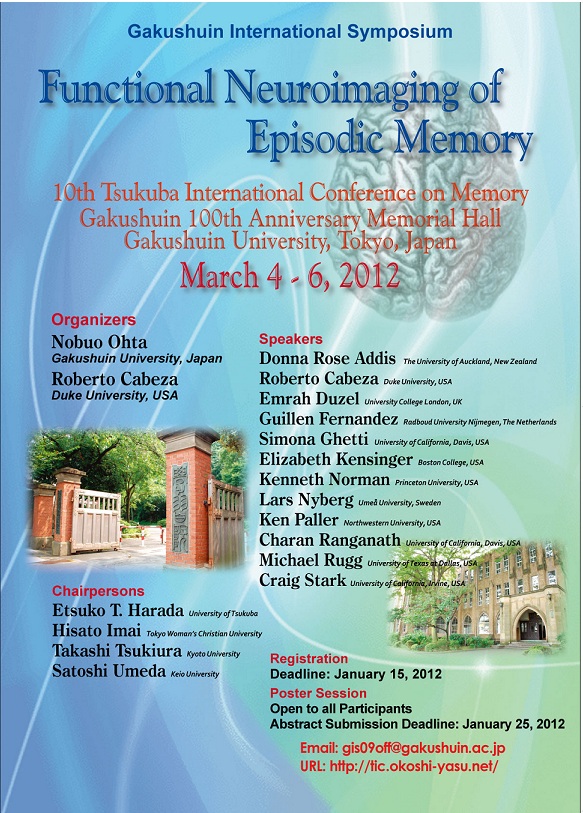 ---
Please feel free to download our poster and print it out.
We can send you some copies of the poster to display.
Welcome to tell us how many copies you need and your address.